Ohio Unemployment
Unemployed? We want to help.
Get Started
Unemployment Compensation and Requirements
Max Weekly Benefit Amt.
$505
Max Benefit Amount
$13130
Unemployment Compensation
Unemployment Insurance in the state of Ohio is managed by the Ohio Department of Job and Family Services (ODJFS). Unemployment Insurance benefits are intended to assist Ohio residents during periods of total, temporary or partial separation from employment.
Benefits are claimed on a weekly basis and paid on a weekly basis, after an initial waiting week period. Your first week of unemployment after your initial claim is an unpaid week, and you will not receive benefits during that time.
Unemployed? We want to help.
You must show that you meet all eligibility requirements to collect Unemployment Insurance benefits for every week you wish to collect benefits. This is done through filing for benefits either weekly or bi-weekly via internet or telephone. You must also register with Ohio's Work Search Program and complete reemployment activities every week you claim benefits.
Calculating Ohio Unemployment Compensation
Determine Your Weekly Benefit Amount (WBA)
Divide your total Base Period wages by the total number of qualifying weeks.

Example: Base Period wages = $38,000
Qualifying weeks = 38
$38,000 divided by 38 = $1,000

$1,000 is your average weekly wage. Your WBA is 50 percent of that amount, which in this example is $500.
Determine your number of dependents and apply the maximum amount from the chart below.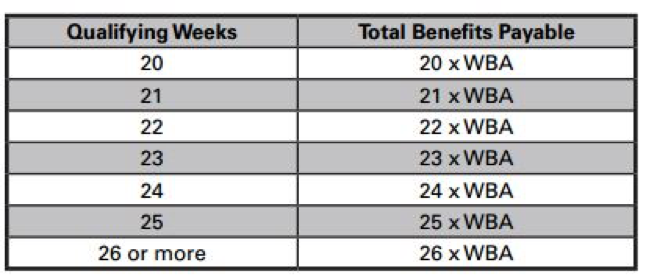 In this example, if you have zero dependents, then even though your WBA calculation is $500, you would collect the maximum amount of $435. If you have one or more dependents, you would collect $500.
Determine Your Maximum Benefit Amount (MBA)
Your MBA is determined by the number of qualifying weeks multiplied by your WBA.
Example: WBA = $435
Qualifying Weeks = 20
MBA = $8,700